Top quality power relay products: latching relay, contactor relay, smart meter relay, PCB relay...
---
Are you looking for a top-quality power relay supplier? Industrial Spacetek (ISTEK) supplies latching relay, electrical contactor and related auxiliary components.  ISTEK represents a group of well-established companies inside China Aerospace Industry. These companies design and manufacture quality electrical components.

Being an affiliate company of Aerospace Longway, ISTEK services all the customers outside China. It provides international clients with the most reliable electrical relays. These high standard products are widely used by the aerospace industry.
These energy relay, contactor relay and accessory components also serve for general industrial purposes. Such power relay products are often used to control energy in EV chargers, inverters, smart buildings, street lights as well as energy meters.  They are especially popular in the area of energy management. ISTEK supplies these products with the most competitive prices to our international customers.
---
Need special relay performances? Check out the wide range of power relays...
Readily available to the international markets, our top quality electrical relays include:

High power bistable latching relay series - including both single phase and three phase power relays with switching power up to 150A / 277Vac
Medium contact capacity latching relays - switching capacity between 30A - 90A at 250Vac
Smart meter relay series - including most of the popular power ratings (e.g. 100A /120A 250Vac) for smart energy meters 
DC contactor relay series:   1). big current contactors include 200A / 110Vdc, 400A / 110Vdc, 100A / 220Vac and 200A / 220Vac;     2). high voltage contactors which can switch at voltage up to 900Vdc
Low current miniature relay series - including both bistable and monostable mini-size PCB relays and other signal relays.
Also available for our international customers to select are the accessory components often used together with the electrical relays - especially for smart meters. These popular auxiliaries include:

Metering current transformer (CT) series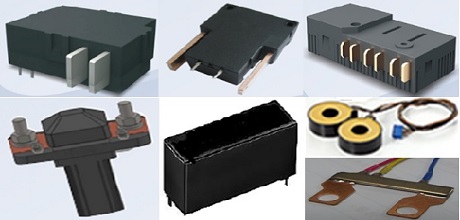 ISTEK Products: Bistable latching Relay, Monostable PCB Relay, Contactor, Shunts and CTs (Current Transformers)
---
Aerospace technology, world-class quality and service: Not Just Top Cheap Prices!
The various electrical relays, DC contactors and their auxiliary products from ISTEK meet both aerospace industry requirements and various international standards.
All of our manufacturing factories are accredited to ISO 90001 and ISO14001 standards, and their products are ROHS Compliant. The electrical relay, contactor products and related auxiliaries meet the widely accepted international criteria like UL, UC and CQC standards - with various certificates obtained from TUV and VDE, etc.
While many of the mature products are directly adopted by end users, we often cooperate with clients by developing customized products.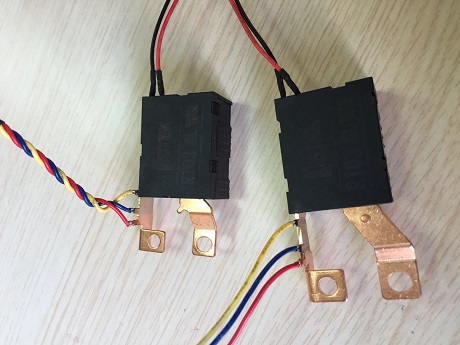 Customised Latching Relay and Shunt Assemblies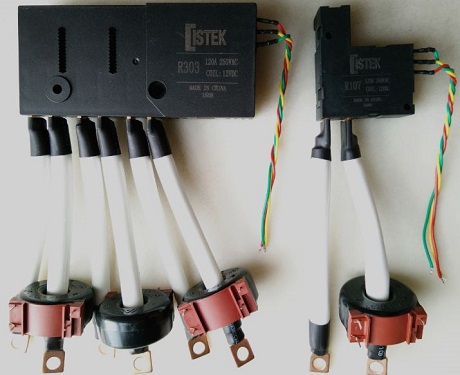 ISTEK Magnetic Latching Relay with Customised Copper Cable and CT Assembles for Smart Meters
Headed by the most respected power relay and contactor specialists in China, our team of engineers work closely with clients' R & D team. Working as customer's business partner, we often start from developing an electrical relay prototype to finally meeting all of their special requirements. 
By following the Aerospace Industry's robust quality control practices and production management processes, our clients are always delighted with the cost-effective electrical relays and contactors we deliver - not only the solid product quality but also the most competitive prices.
ISTEK welcomes all international customers new or old to contact us and let us work together to fulfil your special energy management needs.

---
Looking for top quality latching relays? ISTEK develops and supplies customised magnetic latching relay products for power management with the best price...
Superior magnetic latching relays with popular contact ratings, your choices of switching current include: 30A, 60A, 80A and 90A...
Looking for bistable latching relays? Check out these top quality three phase latching relays at top cheap price...
World class miniature power relay at top low price. ISTEK supplies PCB mounting miniature latching relay and monostable relay products...
Need a supplier of relay for energy meter? Don't miss these UC3 compliant latching relays for smart meters at very low prices...
Looking for top cheap top quality DC Contactors? You do not want to miss these 200A dc and 400A dc electro-magnetic 48 VDC contactor relays...
Need a top quality low price motor contactor? Vacuum sealed 100A, 200A 900V DC contactors: ideal for electric vehicle - EV, DC motor, battery charger...
Looking for quality shunt resistor supplier? ISTEK provides manganin shunts for accurate current measurement at very low prices...
Latest News About ISTEK - Industrial Spacetek
Industrial Spacetek - ISTEK is a specialist power relay provider:latching relay, Contactor...
Privacy policy
Please contact us for more power relay product information